Health Screening Singapore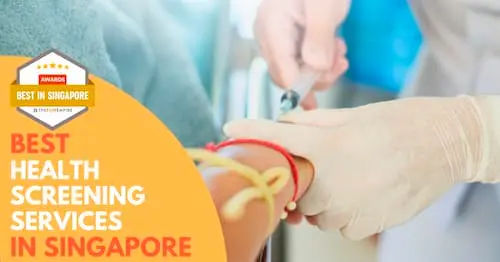 Health is undoubtedly our most precious asset, and preserving it requires proactive measures.
The best health screening services in Singapore include Screen for Life screenings, Homage, Fullerton Health, and Health Screening Singapore by ATA Medical.
When selecting a health screening service in Singapore, it is important to take into account factors such as reputation, accreditation, and the variety of services provided.
In Singapore, health screening services aim to ensure optimal health through a range of tests including blood tests, mammograms, cardiovascular screenings, and cancer screenings.
Discover the top Health Screening services in Singapore, empowering you to make informed decisions for your health management.
Key Consideration Factors
Accreditation: Look for health screening centers that have been approved by well-known groups like the Joint Commission International (JCI) or the International Organization for Standardization (ISO). This ensures that the center meets certain standards of quality and safety.
Range of Screenings Offered: Different health screening centers may offer different types of screenings, so it's important to find one that offers the specific screenings you need. Look for centers that offer a wide range of tests, such as blood tests, x-rays, and physical exams.
Quality of Equipment: The accuracy and reliability of the results of a health screening can depend a lot on the quality of the equipment used. Look for centers that use state-of-the-art equipment and technology to ensure accurate results.
Medical Knowledge: It's important to think about the medical knowledge of the people who do the health screenings. Look for centers with doctors and other health care workers who have a lot of experience and can give you advice based on your specific needs.
Cost: While health screenings may rack up a hefty bill, it is vital to include cost in your decision when selecting a facility. Search for places that provide packages with prices that are easy to understand and that are within your price range.
Accessibility: The location of the health screening facility is another key consideration to make, as is the ease with which it can be reached. Search for facilities that are close to your house or workplace and are easy to reach.
Best Health Screening Singapore
1. Screen for Life screenings
Even though you may be on a tight budget, the Screen for Life initiative at the Ministry of Health can help get health screening tests done at a lower cost. Health screenings are encouraged for citizens and permanent residents of Singapore to stay healthy. The state pays a subsidized fee for each health screening in Singapore. If the checkup is your first one in years, the cost of an additional follow-up consultation will also be covered by the state.
Key Differentiators
Multiple CHAS clinics available
Subsidised health screenings
2. Homage
If you're looking to have medical tests done from the comfort of your home, Homage is the healthcare provider for you. This arrangement is best if you are less mobile or don't want to go out and endure trying situations. To book a health screening appointment, you need to do so 2 or 3 days in advance and schedule a day that's most convenient for you. On this day, a medical professional will arrive at your home with the necessary equipment to collect samples from you. You will receive your results within 2 days, with the tele-consult coming shortly afterward via the Homage app.
Key Differentiators
Quick turnaround of results
Affordable packages
Client Testimonial
Isaac gave us full peace of mind when he was around. He bothered to understand fully my dad condition n took note of all the special requests including comforting my dad. I am extremely grateful for his assistance and would highly recommend his services!

Rita Kathleen Yong
3. Fullerton Health
Fullerton Health screening is a leading healthcare provider across Singapore and Southeast Asia with several branches. The primary feature of their screenings is the luxurious private screening pods. Health screenings are strictly by appointment. Furthermore, the screening report is only available digitally and sent via email within 2 weeks.
Key Differentiators
Open on Sundays
Multiple clinics available around Singapore
Client Testimonial
Dr Navreet, Nurse Nana, Hidaya, Nurse Fangting, Nurse Yamuna were all very courteous, professional and wonderful. The place is very clean and bright, and there is a clear procedure that the team is following. On the plus side, the food is delicious though they have changed from Delifrance to Kraftwich. Overall, it is a great place to do my health screening.

Ina
4. Health Screening Singapore by ATA Medical
Health Screening Singapore by ATA Medical provides affordable health screening and comprehensive full body check up in Singapore from $70. You may also customize your package to best tailor your individual needs. They also provide blood allergy testing.
Their clinic is a one stop health screening centre with Chest X-Ray, Ultrasound and Mammogram facilities. They are able to cater to statutory health screening such as PR medical check up / LTVP medical check up / Work Permit medical check up.
They are conveniently located in the Central Business District (CBD) and just a 4 minutes walk away from Tanjong Pagar MRT. Same day appointment and report are available.
Key Differentiators
Affordable Health Screening
One Stop Medical Centre (Chest X-Ray, Ultrasound and Mammogram)
Female Doctor & Radiographer Available
Client Testimonial
Best health screening centre and best doctor I've come across. I stay in the area and came across ATA Medical online. Decided to check out a health issue I had that troubled me for several months and turned out to be a great decision. Dr Joel is kind, patient and extremely knowledgeable. He is also responsible and followed up with me even after hours to ensure that I was responding well to the medications. You won't find such a doctor at other clinics nearby.


Decided to make this my go-to clinic because it is so pleasant and staff are all polite.


10/10 would recommend

Lester Leong
5. AsiaMedic Health Screening
AsiaMedic offers a variety of one-stop wellness and health screenings designed specifically for clientele with a focus on corporate executives. AsiaMedic aims to provide top-notch healthcare services in the medical field with a focus on disease prevention through clinical services, early illness detection, medical imaging and medical aesthetics.
Key Differentiators
Affordable prices
Client Testimonial
Couldn't find the right entrance and called the clinic in an agitated state. Everyone, from the person who picked up the call to the nurse who kindly talked me through my fear of having my blood taken, were kind and gracious. This is my apology for being a b itch when calling in

Hajar Ali
6. Trucare Medical & Surgery
Trucare Medical & Surgery provides an affordable entry-level package that provides you with a general overview of your health. About 3 medical professionals, who trained at prestigious universities in the UK, run Trucare Medical & Surgery. Doctors speak fluent English, Mandarin, and Malay with some knowledge in Hokkien and Cantonese dialects. Despite having long operating hours, clinics may close during certain work breaks so it is best to check with their receptionist beforehand.
Key Differentiators
Relatively affordable rates
Long weekday business hours
Multiple clinics available around Singapore
A wide range of packages
7. Healthway
The Centrepoint and Downtown Gallery are both accessible clinics in Singapore with professional health screening services. Tumor markers are one of the tests their most basic health screening package offers. Depending on the type of service that you would like to receive, you can select a private suite for your health screening service. Additionally, VIP packages are also available for an additional fee.
Key Differentiators
VIP service available
A wide range of packages
Ideal for Japanese speakers
Client Testimonial
My first visit to Healthway Clinic @ Hougang Mall was a pleasant and comfortable one. The reception staff on duty were nice and professional. Dr. Yee Kah Leong is very assuring and patient to listen. Thank you for this good visit!

Yong Cindy
8. Lifescan Medical Centre
Lifescan Medical Centre is a private clinic that provides family medicine and primary care services to locals and international patients alike.
After receiving your test results, a Lifescan Medical Centre's family physician will discuss health recommendations with you.
Doctors fluent in English, Mandarin, Malay, and Hokkien are available.
Key Differentiators
Ideal for men and women
Doctors fluent in English and Mandarin
Client Testimonial
Had an appointment yesterday for the first time at Lifescan Medical Paragon and had a good experience with all the professional staffs who made me feel at ease. Kudos to Charmaine for being so patient with me over the phone, as well as face to face, and also Dr. Jacqueline for being so sweet. Thank you!
9. Nuffield Medical
Nuffield Medical offers some of the cheapest health screenings in Singapore. Basic health evaluations are provided for Singaporeans through the "Lite Package", including cholesterol, cardiac, and bone and joint profiles. A range of health screening services is available for both men and women. The comprehensive cancer health screening package identifies markers in the liver, colon, pancreas, nose, and breast/lungs.
Key Differentiators
Ideal for men and women
Affordable package available
Wide range of packages
Client Testimonial
We had just arrived in Singapore and I was recommended to Dr Lin by a friend who said everyone goes to him. After taking my daughter to him yesterday for a bad fall on her eye, I just got a call from him personally to check on her. Never in my lifetime have I ever received a call from a doctor to follow up. It was a pretty nasty fall so I am sure it does not happen every time but It was kind of nice…like the good old days.
10. DB Medical
If you're looking for a full health screening service, consider the packages provided by DB Medical. These customizable services are available to both men and women. The clinic specializes in confidential sexual health screenings. Patients can expect a fast result turnover rate of 2 to 5 days.
Key Differentiators
Ideal for men and women
Relatively fast result turnover for STD tests
Wide variety of packages
Client Testimonial
Just done my health screening here last week and got my report today. I have searched and read some reviews before make appointment. Glad that I have chosen the right place. Doctor, nurse and reception ladies are all very professional and friendly as other reviewers mentioned. I will rate it for 5 stars and definitely would like to recommend to my friends
11. NTUC Income
NTUC Income's partners have a wide variety of packages for routine and specialized cancer screenings. Their most basic package includes full physical exams, chest x-rays, and blood tests. Following the examination is a medical review with any doctor you choose from our list of health centers. All appointments are available in the mornings on weekdays and patients may request special arrangements to receive an appointment with a female doctor or one later in the afternoon.
Key Differentiators
Wide range of packages
Special requests can be accommodated
12. SATA CommHealth
SATA CommHealth is a nonprofit organization that provides medical and social support for seniors who are vulnerable in the community. Every year, SATA helps over 200,000 people at their multiple locations which include medical centers and home and center-based services.
SATA CommHealth has been awarded the Institutions of a Public Character (IPC) status and the Charity Governance Award in 2018, for three consecutive years. SATA was also awarded the Charity Transparency Award by the Charity Council for its exemplary disclosure practices.
Key Differentiators
Variety of healthcare screening packages
Client Testimonial
Superb service. 1st time there. Thot to try this out since I've tried the other private medical places for health screening before. Dr Laura was very attentive n detailed, n she explained every line item on the health report n gave suggestions on what to look out for. The nurses were also friendly despite them having to run a few tasks concurrently.. I do not regret coming all the way here although I stay in the far west. Free breakfast sandwiches n drinks were available after health screening 🙂
13. Rein Health
ReinHealth is a family-owned health screening clinic in Singapore specializing in non-invasive, digital preventative medicine. Some of their services include blood tests for cholesterol, diabetes, liver function, and hormone balance; ECG heart test (NST); Heart ultrasound scan; Bone density scan; Digital X-ray.
Key Differentiators
Affordable package available
Wide range of packages
14. Mediway Medical Screening Packages
The Mediway Mecial & X-ray Centre, which was founded in 2016, continues to provide outstanding service. They give the greatest medical care and treatments to their clients.
Mediway's main motto is "Where Your Health Is Concerned." Yes, it does, in fact! Mediway focuses on health screening. You can approach their staff without hesitation and they will be delighted to assist you. With Mediway, you may rest assured that your safety and health are protected.
Key Differentiators
Affordable and competitive rates
Best facilities for medical check-up services
Client Testimonial
Very pleasant experience and reasonable price! I have been here for EP process twice and highly recommend this clinic. The guy Steven at the front counter took care of me very well. The other staff was nice, she instructed me carefully during the X-ray check. The process won't take so much time and you can expect to receive your result in 1 day, even by email or self-collection. You deserve 5-star rating
15. Precious Medical Centre Health Screening
They ensure that your findings are correct using cutting-edge technology. They will make your screening go well with their experts and excellent facilities. They provide tests for both males and females, as well as other special tests.
Key Differentiators
Updated facilities
Specialise in health screening
Client Testimonial
Staff are friendly and attentive. Clean and aesthetically appealing look of the centre. Would recommend to friends and family!
16. AsiaMedic
The health center is an institution that provides medical services. The focus of this business is to prevent sickness and early disease detection through wellness education, assessment, and testing.
Each of their health screening programs is categorized by age group. They also provide seven distinct types of packages to choose from, each tailored to the particular health need of its corresponding age group.
Key Differentiators
Tailored according to age
Flexibility in choice of blood tests
Unique health screening packages
Client Testimonial
Was referred here to get an ultrasound abdomen scan. The waiting time was relatively fast! Less than 30mins. The medical staff who attended to me was very warm and I really appreciated that she made the process comfortable for me.
17. WL&H Medical
A clinic run by Singaporean doctors Dr Peter Yan and Dr Teo Cheng Peng is WL&H Medical. With its top-notch facilities, they provide multiphasic health screening services to their clients. These are used to empower their consumers as well as ensure their health. Furthermore, maintaining their wellness!
WL&H wants to make a difference. They want to assist people in gaining access to healthcare. Their staff will also push you to make better decisions when it comes to your health. They will provide you with the greatest assistance possible in order for you not to get sick.
Key Differentiators
Comfortable environment
Aims to provide a blueprint for change
Client Testimonial
Came to this clinic for our annual flu vaccine. Friendly staff and professional doctor. The nice interior was welcoming. It did not feel like a clinic. Overall a very good experience. Will definitely come back.
18. HealthWorks
HealthWorks is a Singapore-based firm that was built to meet the needs of busy professionals. They stand out from the competition because to their business packages, which bring health screening services to you instead of them. There are five different packaging options available, ranging from the Basic package through the Complete. Their cholesterol and glucose screenings are included in all of their packages.
Key Differentiators
Complimentary onsite health screening service
Corporate health screening packages
Experienced practitioners
Client Testimonial
It was a great experience with HealthWorks. Two thumbs up for their professionalism and excellent service in bringing onsite screening to our company.
19. Raffles Health Basic
Raffles Health is a subsidiary of Raffles Medical Group, Singapore's largest private clinic chain. Their offices can be found all around Singapore. They guarantee that their health supplements and services are of high quality and comply with standards. They were given the Silver award at the Asia eCommerce Awards in 2020 as a testament to their excellent effort.
The Raffles Basic examines several health indicators, including blood sugar count, urinalysis, and cholesterol profile, according to the name of this package. This package is ideal for individuals seeking a comprehensive health check that covers all bases. A complete blood count and a medical doctor's post-examination review are included in this package.
Key Differentiators
Available at multiple clinics all around Singapore
Health Screening Singapore
It is important to go for Health Screening Services that are comprehensive services that can help detect any health issues you may have. We hope that this list has helped you to decide which Health Screening Service is suitable for you!
If you'd like, you may check out the following articles as well!
Frequently Asked Questions (FAQ)
If you have any questions about Health Screening in Singapore, you can refer to the frequently asked questions (FAQ) about the best Health Screening in Singapore below:
Additional Useful Articles
If you are looking for other useful guides and articles about Health Screenings in Singapore, check them out below: